Gold and silver medals
Each year, the university rewards the best prize theses with gold or silver medals. The medals are presented to the prizewinners at the University's Annual Commemoration.
An author who is awarded a gold or silver medal also receives a travel bursary from the Director Ib Henriksen Foundation the amount of DKK 5,000 or 2,500, respectively, as well as a scholarship worth DKK 5,000 or 2,500 from the University.
Prize papers for 2023
At the Annual Commemoration on 25 November 2022, the University announced the subjects of the prize papers for 2023.
Guidelines and regulations
Prizewinners since 2006
The medals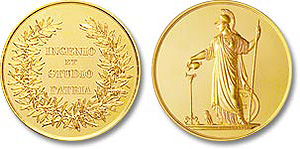 The gold and silver medals bear a figure of Athena, the goddess of wisdom, on the obverse, and the inscription 'INGENIO ET STUDIO PATRIA' encircled by a laurel wreath on the reverse.

The inscription literally means 'From the nation for ingenuity and diligence', and translates more freely into: 'From the nation for a brilliant dissertation'.
History
The University has called for prize papers every year since 1762, apart from the years 1769-91. Since 1849, the medals awarded for prize papers have been listed in the University's Yearbook, which was published up to and including the 2006 Yearbook.
The Yearbook was published in Danish only.